Synopsis
Sometimes the smallest hearts are the warmest. 

When an epic snowfall imprisons the residents of the tiny village of Kishka, young Thea Sutton proposes the villagers build a catapult to fling her and the village's bravest and strongest out in search of a solution. With the catapult hastily assembled, Thea and the heroes are launched over the snow and into the grandest of adventures. Whimsical and humorous, dark, and mysterious, heartfelt, and sincere, this play weaves a fantastical Grimmsian tale for the entire family. 
The work features an eclectic mix of storytelling, traditional Czech puppetry, shadow puppetry and animation, with a cast of memorable characters. 
"The Snow [...] not only treats children with respect, but also listens to their desires for change and gives them a narrative with the space to affect that change."
— Seesaw Magazine
""... cheek-achingly hilarious ... unforgettable magic.""
— ArtsHub
""... Inspiring tale of adventure and innovation...""
— Fourth Wall Media
"Finegan Kruckemeyer's play has the whimsy and delight in the bizarre that marks a great children's story, and Barking Gecko Theatre have brought it to life beautifully."
— Magazine6000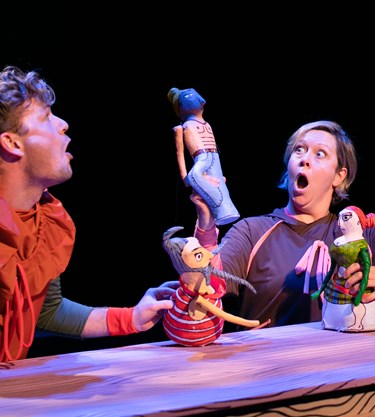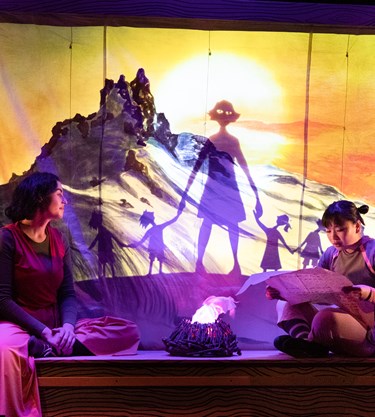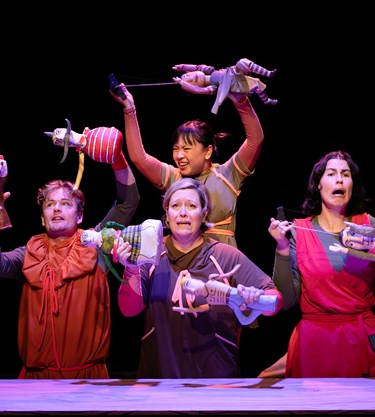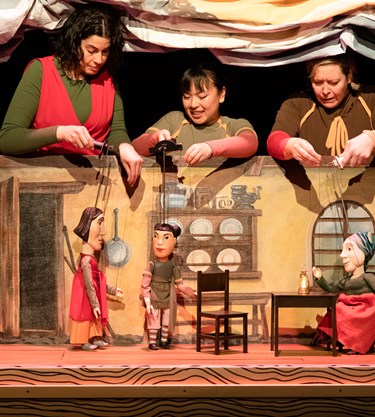 Performance Information
Run Time: 65mins
Contains strobing lights and use of a smoke machine.
Suitable for Relaxed Performances, Auslan Interpreted Performances, and Audio Description. Proscenium Arch or Blackbox Studio. 
Target Audience: children and families, students from Year 3, Home School Families and the adventurous. 
Available Resources: Marketing kit and collateral, detailed technical specification guides, Creative Learning Resource. 
MAIN CAST

Grace Chow

Charlotte Otton

Andrea Gibbs

Isaac Diamond
WRITTEN BY

Finegan Kruckemeyer

DIRECTOR

Adam Mitchell

DESIGNER

Zoë Atkinson

LIGHTING DESIGNER

Lucy Birkinshaw

COMPOSER, SOUND DESIGNER & LIVE MUSICIAN

Cathie Travers

SYSTEM DESIGNER

Tim Collins

PRODUCTION MANAGER

Stewart Campbell

COMPANY STAGE MANAGER

Emily Stokoe

ASSISTANT STAGE MANAGER

Sophia Morgan

COSTUME COORDINATOR

Nicole Marrington

PROPS BUILDER

Luke Salfinger

Taryn Gill
Development Partner

INSPIRE Perth: Community Partner

INSPIRE Perth: Community Partner

INSPIRE Kwinana: Community Partner

City of Imagination Partner

Barking Gecko Donor Family
WONDER CLUB
GIVING PROGRAM DONORS
Government Partner