The Great Un-Wondering of Wilbur Whittaker (Year 3+)
By Dan Giovannoni
Term 1 | 4 - 8 April | State Theatre Centre of WA
The Great Un-Wondering of Wilbur Whittaker is a brand new Australian play about creativity, growing up and living outside of the box from the writer/director duo behind 2021's sell-out smash HOUSE and Helpmann Award-winning stage hit Bambert's Book of Lost Stories.
A heartfelt and irreverent adventure across the universe that will delight and inspire your students!
More Information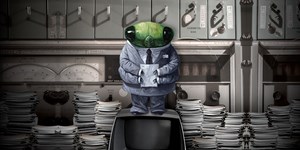 Cicada (Years 3+)
Adapted from Cicada by Shaun Tan
Term 3 | 25 July - 12 August | State Theatre Centre of WA
Cicada tell story. Story Good. Story simple. Story even human can understand. Tok! Tok! Tok!
Winner of the Children's Book Council Award for Best Picture Book in 2019, this new adaptation brings master-storyteller Shaun Tan's much-loved Cicada to life in a stunning puppet show by some of WA's leading theatre-makers and most exciting emerging artists.
More Information
Donors
Wonder Club Giving Circle