Remember when you were at school and every year there was a bake sale to raise money?
It was a highlight of the school calendar, as children brought their best baked goods to the table and lined up to purchase the perfect treat.
This end of financial year, Barking Gecko is holding an imaginary bake sale to raise money for our school excursion program. And we invite you to join us!
Your donation will help cover the cost of tickets and buses for children facing hardship. That way all children, no matter their circumstance, can experience the joy and wonder of live theatre.
Join The Great Barking Gecko Bake Sale!
From pretend pikelets to fictional fairy bread, our imaginary bake sale has something for everyone.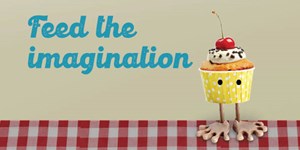 FEED THE IMAGINATION
To make a tax-deductible donation, please click on the button below and we'll be in touch soon to acknowledge your gift. If you would prefer to speak to someone at Barking Gecko about donating, please call our Philanthropy and Sponsorship Manager, Monique Beaudoire on 0407 987 834.
MAKE A DONATION