Colin Thiele's Storm Boy is one of Australia's best-loved stories for young people.
By Colin Thiele Adapted for the stage by Tom Holloway
Colin Thiele's Storm Boy is one of Australia's best-loved stories for young people.
A boy's last childhood summer before beginning the long trek to adulthood is spent with his reclusive dad Hideaway Tom in the wild freedom of South Australia's Coorong. Storm Boy roams the savage landscape, navigating the waters and searching for debris and wildlife. Along the way, he picks up some unlikely friends including the enigmatic Fingerbone Bill and a family of orphaned pelicans, including his favourite, Mr Percival.
The book and the film both reached huge audiences, and then Sydney Theatre Company and Barking Gecko Theatre partnered to bring this moving tale to the stage.
"The carefully arranged spareness of Michael Scott-Mitchell's design is reflected in adaptor Tom Holloway's language, which retains the tight-lipped character of Thiele's prose while moulding Hide-Away Tom and Fingerbone Bill (Trevor Jamieson) into more contemporary figures with splashes of humour."
— Sydney Morning Herald
"This much-loved classic of Australian children's literature and film is brought to theatrical life, in collaboration with Perth's Barking Gecko Theatre Company, on one of the main stages of the Sydney Theatre Company. It is a nice piece of programming in the Wharf 1 space."
— The Australian
"To adapt a much-loved 50-year-old Australian children's literary classic is a bold enterprise, fraught with risks. But thankfully Western Australia's Barking Gekko and our own Sydney Theatre Company held their institutional nerves and commissioned this stunning adaptation of Colin Thiele's Storm Boy, a much-loved novella from 1963, made into an equally revered film 13 years later."
— Daily Telegraph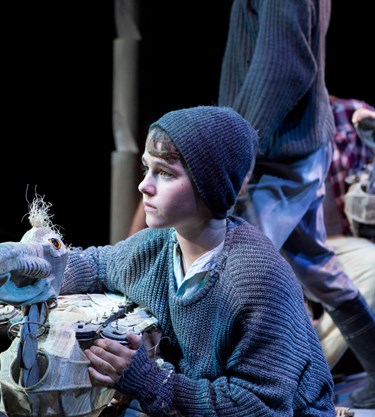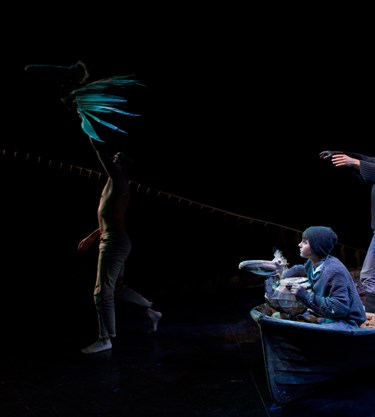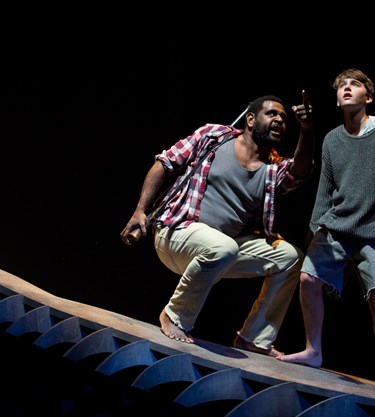 Director John Sheedy
Set, Costume and Puppet Designer Michael Scott-Mitchell
Puppetry Director Peter Wilson
Lighting Designer  Damien Cooper
Composer & Sound Designer Kingsley Reeve